Truck Accident Lawyer/Attorney
Primarily Serving Antioch, Pittsburg, Brentwood, Oakley, Concord and Bay Area CA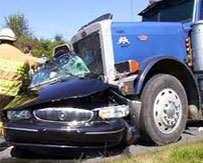 One of the most critical aspects of a trucking accident case is fighting the trucking company's insurance carrier. The trucking company will send an accident response team of adjusters, investigators and lawyers to the scene. Its job is to protect the company from risk and expense by covering up or denying fault for the accident.

The Law Office of Mark A. McLaughlin will investigate the accident to preserve evidence and determine liability. If you or a family member was injured in a trucking accident, you need one of our experienced personal injury attorneys to fight the trucking company on your behalf. We will pursue your injury or wrongful death claim until we obtain results for you and your family.

Catastrophic and Fatal Trucking Accidents
If you have been injured in a Car Accident, don't talk to anyone from the insurance company. Refer all their questions to us, and let us (trucking accident attorneys) handle them for you. Our Northern California (Antioch, Pittsburg, Brentwood, Concord, Oakland, San Francisco, and ….) Car Accident law office will provide the necessary information without compromising your claim for compensation.
The Law Office of Mark A. McLaughlin represents individuals and families who were injured or lost loved ones due to accidents with large trucks such as:
RSemis and 18-wheelers
Tractor-trailers
Construction vehicles
Sea-land container trucks
Because a passenger vehicle is no match for the size and weight of a commercial truck, the injuries from these accidents are often catastrophic or fatal. We have over 30 years of experience with serious injury claims involving traumatic brain injuries, spinal injuries, broken bones and amputations, and burn injuries.

These types of injuries often require compensation to cover specialized medical treatment, rehabilitation and long-term care. For wrongful death claims, we will also argue for funeral expenses and additional compensation for future income the victim would have earned.
Call to trucking accident law firm today for free Consultation, Contact our office (with truck accident injury lawyer) today to discuss your car accident injuries. We are available during regular business hours and by appointment evenings and weekends. You can reach us by phone at (925) 754-2622 or via e-mail. We take every personal injury case on a contingency basis which means that you don't pay any attorney's fees unless we recover compensation for you.
Law Offices of Mark A. McLaughlin
5109 Lone Tree Way, Suite B
Antioch, CA 94531, USA
TEL:
925.754.2622
FAX:
9257541104
E-MAIL:
nmclaug226@sbcglobal.net
PRIMARY PRACTICE AREA
While I enjoy the pleasure of serving clients from all over the Bay Area, my clients mainly come from Antioch, Brentwood, Pittsburg, Oakley, Concord, Martinez, Pleasant Hill, Walnut Creek, Oakland and San Francisco.
RELATED SEARCHES
Truck Accident Lawyer Antioch | Truck Accident Attorney Antioch | Truck Accident Lawyer Pittsburg | Truck Accident Attorney Pittsburg | Truck Accident Lawyer Brentwood | Truck Accident Attorney Brentwood | Truck Accident Lawyer Oakley | Truck Accident Attorney Oakley | Truck Accident Lawyer Concord | Truck Accident Attorney Concord